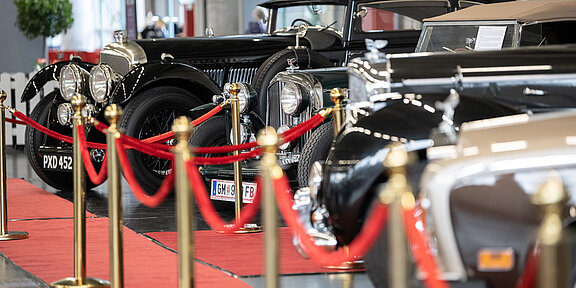 17. October 2023
Messezentrum Salzburg hosts key classic car community event
All classic and vintage car enthusiasts should make a note of the upcoming weekend from 20th – 22nd October as Messezentrum Salzburg hosts the 19th edition of the Classic Expo – the international classic car exhibition.
Over the years, the Classic Expo and its multifaceted approach to automotive history have become well established among industry experts, insiders, collectors, hobbyists and old car enthusiasts within the classic car community, particularly due to the show's extensive and high-quality range of issues, expertise and products.
Now, around 380 exhibitors, spread over ten halls, will be here to delight visitors with their exhibits, services and spare parts for all classic car requirements and desires. "The nineteenth edition of the Classic Expo has it all. All the exhibition spaces have sold out, guaranteeing visitors an unprecedented range of products – from exquisite one-offs to every desirable spare part. There is also plenty on offer in terms of content, with three special displays and a comprehensive side-events programme – including everything from specialist lectures to test drives. There's a genuinely enjoyable weekend of enjoyment ahead for all classic car enthusiasts," says Managing Director DI (FH) Alexander Kribus, MBA, discussing the upcoming trade fair weekend.
From luxury cars to the garage finds
There's a large and comprehensive range of items for people to admire, haggle for and purchase at the Classic Expo – from gleaming luxury vehicles, robust veterans and sporty racing cars, to meticulously-restored beauties and rare garage treasures. Some may find the objects of their desire on show in halls 9 and 10 with all the renowned classic car dealers, while others try their luck with one of the numerous private entrants, this year filling two halls with almost 200 vehicles.
Two anniversaries and a hint of Bella Italia
If there is a single unmissable automobile community anniversary this year, it's '75 years of Porsche'. The Classic Expo is also dedicating its own special show to the famous brand, so visitors can marvel at exhibits such as a Porsche 356 – manufactured in Gmünd in 1948. '100 Years of MG' pays tribute to the life's work of Cecil Kimber. The MG Owners Club Austria is exhibiting a total of 13 models built between 1930 and 2023, among them an MGA TwinCam with the characteristic double overhead camshaft. IG-Formel Classic contributes a touch of southern flair with its 'Italian Motorcycles', presenting classic to modern racing machines and street motorbikes running under the green-white-red tricolour.
Never boring. Guaranteed!
In addition to the classic cars, extensive parts market and active club stands, over the weekend a variety of programme highlights will be there to attract visitors. There's an fascinating expert talk scheduled for the first day of the fair (Friday, 20 October), on the subject of 'Trends and innovations in the vehicle enthusiast sector'.
On Saturday, 21 October, Dr. Erik Diewald-Hagen, an expert on historical photography, provides insights into how he stages products with a 160-year-old plate camera: 'Photography: Older than your car'. The Austrian Veteran Car Association (ÖMVV) will be offering test drives for trade fair visitors aged 17 to 25 as part of its 'StarterMotor' youth development programme (Saturday & Sunday, 21 & 22 October). Information is to be provided about an innovative battery monitoring and surveillance system at a feature entitled "Digital Innovations & Preventive Measures in Hull Insurance" (21 & 22 October). The IGFC Cup 2023 award ceremony is also scheduled for Saturday. At 3pm the Dorotheum auction house invites visitors to join in the auction of 'Classic Vehicles and Automobilia' in hall 1. This year's auction catalogue lists 78 vehicles with many major names on offer: Maserati, Porsche, BMW, Mercedes, Jaguar, Ferrari and many more, with a 1962 Maserati 3500 GTI and a 1940 BMW 327 Coupé being traded at estimated prices of up to €280,000.
On Sunday, 22 October, ÖAMTC Salzburg provides 'Practical and interesting facts about classic cars and vintage vehicles', including legal advice on self-imports and type approval, and tips on everyday issues in classic car handling, like how professionals make cars winter-ready.
Once again, the Classic Expo promises a weekend of automotive craftsmanship to delight visitors from all over Europe.
Your press contact

Denise Müller
Marketing & Communications
Marketing & Communication Manager