14. October 2016
Completely renovated multifunctional hall no.1 ready to impress at Salzburg Exhibition & Congress Center
In what seems like record time – just seven months – hall 1 of the Salzburg Exhibition & Congress Center complex has been completely renovated and is now ready to impress with the very latest standards of building infrastructure at the 'Classic Expo' classic car show due to start at the weekend.
Hall 1, the connected entrance zone and the first floor, with the flexible Congress and Meetings Venue, the catering area and the offices of Messezentrum Salzburg GmbH, have now been completely modernised almost 30 years after they were originally built.
"The goal of rebuilding was to ensure this popular hall could offer comprehensive multifunctionality, while adhering to the stipulated deadlines and financial limits, to guarantee it remained ideally suited to hosting a comprehensive range of events, such as trade fairs, congresses, meetings, shows and sporting events", recounted Michael Wagner, Managing Director at Messezentrum Salzburg, outlining the objectives of the modernisation steps.
Investment in the expo city of Salzburg with benefits for the regional economy
"Rebuilding work on the 27 year old hall 1 was completed in a remarkably short construction period. I'm delighted this renovation work has enabled us to maintain the leading position of Salzburg's exhibition and congress centre as a venue for all kinds of events. Renovation of the facility was essential to guaranteeing the venue remained an attractive option for the organisers of trade fairs, congresses and a whole range of events" asserted Dr. Heinz Schaden, Chairman of the Advisory Board at Messezentrum Salzburg GmbH.
"As Salzburg's regional minister of finances I am always delighted when such a large-scale project is completed exactly according to the stipulated budget and deadline. This is a perfect example of a successful project made possible by close cooperation and smooth coordination between the various bodies involved. The investment of €12.7 million in the exhibition centre was an important step towards ensuring Salzburg maintained its status as a venue for trade fairs for many years to come. The fact that the exhibition centre is now going online with a third photovoltaic system, capable of producing 33.8 kWp per year, is very much in line with our policy of implementing environmentally sustainable solutions", stated Deputy Governor of Salzburg, Dr. Christian Stöckl.
"A modern exhibition centre is essential for regions hosting and attracting business. Activities at Messezentrum Salzburg trigger estimated additional production effects of around €160 million, creating or securing approximately 1300 jobs. Now the infrastructure at Messezentrum Salzburg has been completely updated it will continue to be a leading domestic force with an international aura", emphasised Dr. Manfred Pammer, Deputy Director of the Salzburg Chambers of Commerce.
Architectural considerations and multiple functionality
Now as then, hall 1 is an ideal venue for hosting an immense range of events, including trade fairs, congresses, stage ad TV audience shows with all the benefits of a total of 2529 m² of expo floor space.
"The central element of the new concept and renewal of several aspects was to integrate hall 1 into the existing ring of 10 halls and the immediately adjacent Salzburgarena – from a municipal, functional and architectural point of view, while it became a new, central terminal with its own immediately recognisable identity", explained Michelangelo Zaffignani, the architect responsible for hall 1.
The new hall no.1 now joins hall 10 as the pioneering face of the future for this highly modern exhibition centre. The two foyers at either side of hall 1 were carefully renovated and technically upgraded to meet today's challenges. Along with entrance 1 and its service zones, a completely renovated, two-storey structural protrusion also houses all the other activity and office space rounding off the spatial aspects of this expo boulevard", explained the project manager Heinrich Pölsler.
Images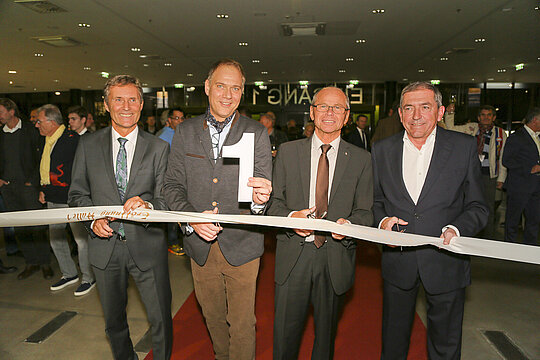 download file
Your press contact

Denise Müller
Marketing & Communications
Marketing & Communication Manager