Special displays
Every year, the Classic Expo is dedicated to one or the other special topic that makes some four- and two-wheeler fans' hearts beat faster.
With around 400 automotive anniversaries, 2022 offers the full range of possibilities.
... more information coming soon!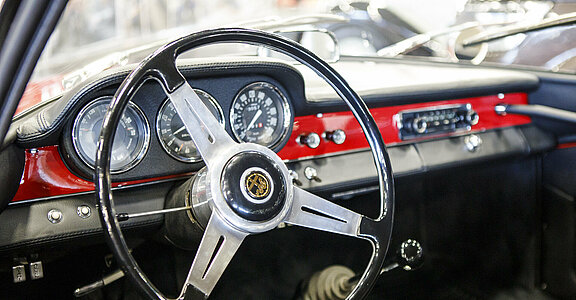 2022: A year of anniversaries
There are so many historical milestones to look forward to this year, and for the automobile sector 2022 will prove to be one of the major successes of all time. There will be around 400 anniversary celebrations this year as yesteryear's top brands and motorised masterpieces of continue to thrill us today.
Without doubt, the starting gun for contemporary motorised travel was fired in 1862 as Nikolaus August Otto initiated the development of the 4-stroke engine. It's also 160 years since the establishment of Opel's car manufacturing operation. 20th century automobile construction history was sparked in 1902 by the foundation of Cadillac – the US premium car builders. Subsequently, every ten years a new name appeared: In 1912, Carrozzeria Bertone was established by an Italian who designed and manufactured automobile coachwork and car models for several other brands. In 1922, Jaguar came along, and 1932 it was the turn of the first German state-owned factory – Auto Union.
In 2022, Ferrari celebrates its 75th anniversary and the roll-out of the first sports car produced under the banner – the 118-bhp '125 S'. Maserati's 3500 GT and Sebring are now both in their 60th glorious year, as are the MG B and the Triumph Spitfire. Ferrari also has a 60-year-old on the jubilee list too, the 250 GTO, considered to be the world's most valuable automobile.
Another Italian legend appeared for the first time around 50 years ago in the shape of the 365 GT4 2+2. 1972 was also the year Porsche rolled out the new 911 Carrera RS, claiming it to be 'Germany's fastest car'. Congratulations are also the order of the day for the 50th birthdays of the Maserati Khamsin and Merak, the Fiat X1/9, Nissan 240 Z (in Germany & Austria) and the VW Porsche 914 2.0.
What more could automobile enthusiasts wish for in 2022? Visitors will be even more motivated to attend this year's Classic Expo as the major stage for special classic car displays and fascinating theme sections!