Classic car private sale
The Classic Expo offers the perfect sales area for your private classic car!
Use the professional setting and the targeted audience of the International Classic Car Exhibition to sell your classic car.
A total of two halls are available for private classic car sales and are a special attraction for around 20,000 visitors on the weekend of the fair every year.
Sell your classic car at Classic Expo
Conditions
Private sale parking space in the hall
1 exhibitor pass per parking space
1 permanent parking ticket per parking space
Online ad on www.classic-trader.com
for the duration of the fair, as well as set-up and dismantling days.
€ 170,00 (incl. statutory VAT + charges)
Free online ad for Classic Expo private sellers
Exclusive offer for private sellers at Classic Expo
Advertise your classic cars for sale at the fair free of charge in advance on Europe's biggest classic car market www.classic-trader.com
Benefit from a 3-month free advertisement!
If you are interested, please select the appropriate form field.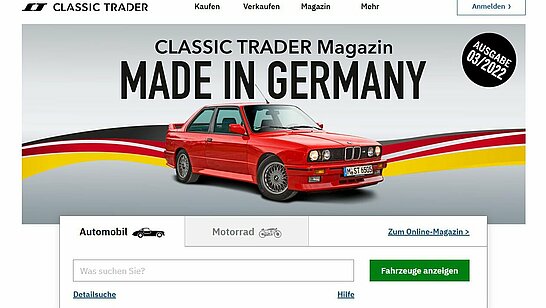 Register online now
Classic car private sale
(please fill out one registration for each vehicle)